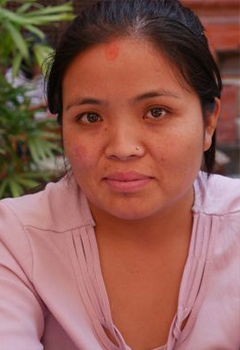 About
Age: 27
Home: Gorkha district
Background: Father – Retired technician, Mother – housewife, 4 siblings.
Previous employment: 6 years in remote areas as axillary nurse midwife (ANM) for PHASE Nepal.
Current: Working as qualified nurse for PHASE in Humla.
News
September 2022
Apsara recently led the team who safely delivered these lovely twins at her health post in Humla. Although it was recommended that the mother go to hospital for this higher-risk delivery, travelling to the nearest hospital was not an option for her due to lack of finances. This highlights that having highly-qualified staff at rural health posts is vital. Great work Apsara!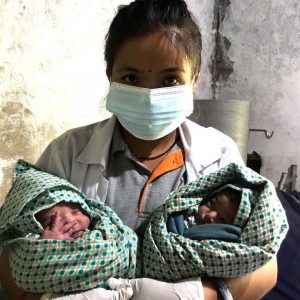 July 2022
Apsara has now finished her bonded period (January 2022) and continues to work with PHASE in Humla. She remains incredibly grateful for the support of DFN to get her to this point in her career and reports feeling 'proud and happy' to continue her work in Humla.
January 2020
Congratulations to Apsara who has now graduated as a fully qualified nurse. She has taken up a nursing post for PHASE in Humla, Karnali. Good luck with your new job Apsara!
September 2019
Apsara continues to work and study hard and has just gone into her final year of her nursing studies.  Keep up the good work Apsara!
May 2018
Namaste! I would you like to express again my cordial thanks to PHASE Nepal and DFN for the generous scholarship provided m now my study ongoing 2nd year (PCL nursing). In this year, we have to study 8 subjects and we exposed to different hospital as each subjects, like eye hospital, children hospital, geriatric home, medical surgical mainly for pre-operative and post operative care, ENT, MCH Clinic and mental hospital. There I got great opportunity to learn different new procedure and handle different cases. Then really broaden my knowledge and skills to handle and management at various health problems, making nursing diagnosis and provide nursing care as well as provide to health and education for promotion health.
Firstly I observed and can performed different procedures like IV cannulisation, catheterisation, tube insertion, ECG monitor cardiac monitor, immunisation maternal and child healthcare, physical examination, history taking, mental status examination, different case studies and presentation.  Apsara Jirel (PCL Nursing 2nd year, Nepal Institute of Health Science, Jorpati, Kathmandu)
2017
"I am enthusiastic to study nursing because we can contribute to the community from my corner. Now I am studying I don't have a job, so it is difficult to manage food and lodging, I am also finding it difficult to study in English language!" (through translator)
BACK