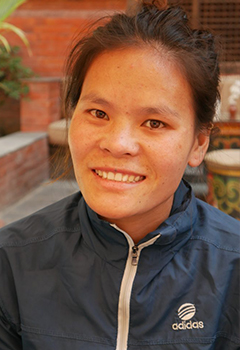 About
Age: 27
Home: Solukhumbu (near Everest)
Background: Father died 3 years ago, mother – farming, 3 siblings.
Previous employment: Worked as ANM for PHASE Nepal for 3 years in remote areas.
Current: Finished bonded period in 2022, and now studying for a bachelor's degree in Lalitpur
News
July 2022
Having finished her bonded period and her work with Phase in January this year, Binita is now studying for her bachelor's degree in nursing at B and B medical college in Lalitpur, a wonderful next step in her career.
January 2020
Congratulations to Binita who has now graduated as a fully qualified nurse. She has taken up a nursing post for PHASE in Humla, Karnali. Good luck with your new job Binita!
September 2019 
Binita has just started her third and final year of her nursing studies.  Working and studying hard – keep up the excellent work Binita.
May 2018:
"Namaste!  I would you like to express again my cordial thank to PHASE Nepal and DFN for the generous scholarship provided me. Now my study ongoing 2nd year (PCL Nursing). In this year, we have to study 8 subjects and we exposed to different hospitals as each subjects, like eye hospital, children hospital, geriatric home, medical surgical mainly for pre-operative and post operative care, ENT, MCH Clinic and mental hospital. There I got great opportunity to learn different new procedures and sills to handle and management of various health problems, making nursing diagnosis and provided nursing care as well as provide to health education for promotion health. Firstly I observed and can performed different procedure like IV canulisation, catherisation, NIG tube insertion, ECG monitor, cardiac monitor, Immunisation, maternal and child health care, physical examination, history taking, mental status examination, different case study and presentation."  Binita Rai (PCL Nursing 2nd year, Nepal Institute of Health Science, Jorpati, Kathmandu)
2017
"When I got my scholarship from DFN I was so happy and glad; my family also felt great. After my father died our financial condition deteriorated, so I am having difficulties with managing my finances. I am currently on a community placement, having the opportunity to give health education about hand-washing, family planning, birth spacing, waste management, sanitation, and the importance of child immunisation."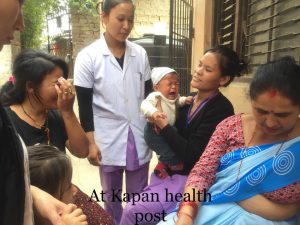 BACK