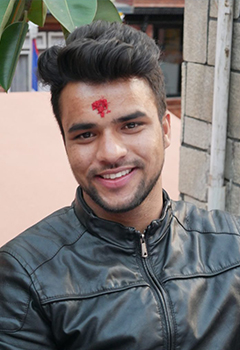 About
Progress: Working as a newly qualified doctor as an intern at Patan Hospital, Kathamandu
Location of origin: Jumla, Malavid
Parents occupation: Mother – housewife
Siblings: two brothers and one sister
July 2020: Kamal has become our 6th student to graduate as a doctor after 5 years of very hard study. He will soon start his 1 year internship at Patan Hospital in Kathmandu before hopefully securing a job as a doctor back in his remote region of Nepal.
Feb 2019: Kamal now lives out of student halls as he has to care for his sick brother.  Despite this extra strain on Kamal, he continues to get good marks in his exams and clinical work.
July 2017:  Kamal gained excellent results in his Comprehensive Basic Science Exam (CBSE) exam which he passed.  His marks were in the following ranges: Theory: 60-80%, Practical: 60-80%, Overall: 80-100%
He is now starting his clinical training.  CONGRATULATIONS KAMAL!
June: 2016:
Namaste! Hello Ma'am I'm fine here and hope you are also fine there. Our final examination is coming soon, so I'm very busy in study now a days. One good news; in our college I became a most valuable player in this sport years, so I'm very happy. Your sincerely, Kamal Hamal  (6/6/16)
The Community Based Learning and Education (CBLE), being the major teaching learning methodology of PAHS, exposes us to various rural settings of Nepal. In this fifth CBLE posting I was nominated for sisneri VDC of Makwanpur district. Though this VDC is very near from Kathmandu valley is not much developed as expected by me. HP is only health facility available there. Many poor people visit there and get health services. Majority of people are Tamang so smoking and drinking is major problem.
This posting is all about health sensus. We had visited each and every house to find out the health status of the people. Due to geographical difficulties we had so many problem like walking, food etc. One interesting thing I had loose one kg weight due the heavy walk. Initially I'm allocated at ward number one but finally at six for data analysis. We all 61 students were allocated on the ward number six for collecting the data in final day of posting. So finally the report we had made was the combined effort of all the students of the fifth batch. So I'm happy to work with my friends.
This CBLE was very knowledgeable and helpful for me and was full of learning with fun People. They are poor and smoking and drinking problem is common. Drinking has led to many social problems. People of the VDC work very hard for two time meal. They work in the farm whole day. Few come up to Kathmandu valley for the job and their life is so struggling.
Another unique experience of life was talking to child to old people, taking their vitals like BP, temperature, and measuring height, weight. So this will help me in clinical science. This posting also taught us to use of SPSS for data analysis. It will be helpful when conducting research.
Overall I had a memorable posting that was enjoyable and fun in addition to being knowledgeable. Whatever I learned in the posting duration and after returning from there, will be very useful in my life. And this will help me to get the goal of my life. Kamal Hamal, 10/12/16
BACK