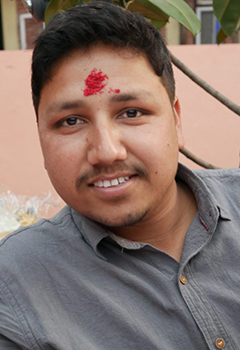 About
Progress: Working as a newly qualified doctor as an intern at PAHS
Location of origin: Achham district, West Nepal
Parents occupation: Father – works in Mumbai (labourer) Mother – Housewife
Siblings: One older sister, one younger sister, and one younger brother
"Your financial generosity has allowed me to one step closer to my dream and has inspired me to help others by giving to the community. I hope one day I'll be able to help other students achieve their goal just as you have helped me. I'll try to do my best to solve all these problems after the completion of my study and dedicate my whole life servicing to those who really are in trouble such as poor people, disabled people, old aged people, from the remote and backward regions."
Prakash shows us around Patan Hospital: during the last DFN Trustee visit to Nepal, Prakash showed us around Patan Hospital to give us some idea of the different wards in the hospital and the patients he treats.

News March 2019: We have jus heard from Prakash that he has passed all his final exams and so is now a very happy Dr Prakash Thakullah.  We are extremely proud of him as he becomes our 4th student to qualify as a Doctor for Nepal.  CONGRATULATIONS Prakash!
News Feb 2019: Prakash is currently sitting his final exams.  An extremely hard worker, Prakash will  hopefully do very well in his exams and then become our 4th doctor for Nepal.  Once he's graduated, Prakash will serve a 1 year internship at Patan Hospital and then he will return to his home district to serve as a doctor for the next four years.  We wish Prakash all the luck there is to wish as he nears the end of his medical student studies.
News 2018: Prakash has just completed his final 4th year exam and has passed with an excellent mark.  In his final year he will be spending 6 months studying/working at Patan Hospital in Kathmandu and 5 months working in a rural district hospital.  He is also required to visit a non-profit health related organisation for 2 weeks.  Prakash has chosen to visit a community rehabilitation centre in Kathmandu where he will gain more knowledge about the importance of skill development for the sustainable livelihood of children with disabilities and learning difficulties.
BACK