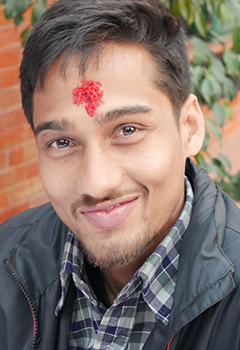 About
Progress: 5th year medical student at PAHS
Location of origin: Phoimahadev 02, Nagma Kalikot, Karnali Nepal.
Parents occupation: Father – farmer, Mother – housewife
Siblings: 1 younger sister
"I feel so much happy and proud to and to be a part of DFN. It was only possible to continue my study by the kind support, parenthood and good guidance of DFN. The treasure are good parents and guardians who always motivate and supports in every steps of my medical science career. I feel the DFN and every successful steps of my study are synonymous.
DFN will be immortal in my memory throughout the journey."
February 2019:  I am fine here and hope you all are fine as well. My study is also going good. My result of 'mid term exam' of major rotation was good which was published yesterday.Still 2 blocks are remaining for the completion of major rotation. I am working hard for the remaining blocks. 
In my village my parents are well.Yesterday I talked to my mother on phone call after long time. She is missing us a lot. She is eager to meet us but I have no sufficient time to visit my home." Purna
December 2018:  Purna writes to tell us about a fascinating case he has been involved with at PAHS in Kathmandu.
"A 12 year Orphan child, initially from Jajarkot (western hilly district) came to our children ward with chief complaints of swelling around his eye, face, abdomen and legs. His father died when he was 2 and few year later his mother also left him. She married another man. But his maternal uncle helped him to stay on in their home for few days. Then a organisation working for orphan children helped him. They took him to Kathmandu and kept him in their orphan centre, and sent him to go school and kept him in their hostel. 
At the time of admission he had high blood pressure (150/100 mm of Hg) and swelling all over his body. We started some intravenous medications to reduce blood pressure and swelling, and antibiotics with some preventive measures. We sent him to our lab for further investigation. Our clinical examination and lab report confirmed the diagnosis "NEPHROTIC SYNDROME". He is starting to improve. We are  monitoring his health condition continuously.  He came to our hospital in time. Thanks to God! You brought an "Orphan child" to us in time before developing complications." Purna
March 2018: Purna writes: "Namaste!I am fine here and hope you are also fine there. I am in the last phase of my basic science block and the final exam is soon. So I am a very busy in preparing my exam. In my village Mum and Dad are also fine, and my sister is also doing well. We have no community level postings currently as everything is focused on our the final exams. I will be in contact and send photos and memories after my exam. Lots of love to my other family "DFN". Missing you all dear sir and mams."
BACK