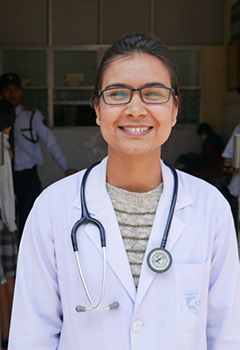 About
Progress: Having worked her bonded period as a medical officer at Mugu District Hospital, Meena is currently preparing for her postgraduate exams
Location of origin: Jumla district, Sinja Pandugupha village
Parents occupation: Farmer
Siblings: One elder brother and three sisters
"At my village, most of children and women die because of inadequate health services, poverty and acute illnesses. From that time onwards, I wanted to be a good physician and serve those people in rural areas who are poor, uneducated, and innocent but they have desire to improve their life style."
Meena completed her undergraduate training in August 2016. After qualifying she worked as an intern for 1 year in Patan Hospital in Kathmandu, and went on to work in Mugu District Hospital, in the rural district of Mugu. She is currently studying for her postgraduate exams, which she will take in 2024.
LATEST NEWS
April 2023
Meena continues to serve her remote district of Mugu. One case she shared was that of an eighteen-year-old woman, at term with a twin pregnancy. The woman had pre-eclampsia and was in a dangerous situation. Because she had access to Meena and the rural hospital she works in, she was able to be treated and monitored. Her blood pressure gradually lowered with the help of IV medication as she advanced in her labour. The beautiful twins were born weighing 2200gm and 1800gm and mother and babies are now safe and well. This is just one of the hundreds of patients Meena helps at her small hospital every month.
April 2022
Meena continues to work in obstetrics and neonatal care at Mugu District Hospital. She has been doing a fantastic job  handling emergency cases such as complicated deliveries and C-sections, as well as other work such as dealing with patient admission, ultrasonographic analysis of pregnant women and medical checks for discharged cases. She balances all of this with looking after her own little one, who we're pleased to report is doing well. 
AUGUST 2021
Amazing personal news from Meena – she is now a mother having given birth to a beautiful baby boy.  She continues to work as a doctor in Mugu District Hospital.  Congratulations dear Meena to you and your beautiful family.
SEPTEMBER 2019
Our first female DFN sponsored student, Dr Meena, has shared the extraordinary story of how she saved the life of a mother and baby, whilst working in an extremely resource-limited setting. She is working in the far west of Nepal, in a tiny mountain-side hospital. There are no operating theatre lights, and no electricity to power instruments to stem blood-flow.
A few weeks ago she undertook an emergency caesarean section on an extremely unwell women who had been in labour for over two days. It took many hours to convince the family that a Caesarean was required to save her and the baby's life. Then later that night, when the sun had set on the mountains, the family asked her to proceed with the the surgery. It was extremely difficult to arrange blood for transfusion  and staff to come in from their mountain homes;  there were many unimaginable challenges to overcome (including the critical lack of power). But finally they were able to carry out the caesarean section.
Fortunately, due to Dr Meena's medical training, and her communication and coordination with the other staff in the tiny hospital, she was able to successfully deliver the baby.  We are happy to report that mother and baby are now doing really well.
Meena is currently undertaking her bonded period back with DFN- in return for the full scholarship she received from us. It is with your continued support that we are able to help offer hope of improved healthcare to these remote inaccessible regions of the Himalayas.
Well done Meena! We are so very proud of you.
February 2019: Meena is hard at work as one of only 3 doctors at her remote hospital in Mugu district. Meena hopes to gain a long-term contract in the hospital so that she can make a difference on a more senior and managerial level. Since September she has carried out 4 Caesarean sections, all with successful outcomes.  Meena has been directly involved in saving women's and babies lives in the most difficult of circumstances; with no power, no blood banks, without senior help, and with the potential ramifications of the loss of the communities trust.
March 2018:  Meena writes: "Namaste!  I am working in Mugu district hospital which is located in rural/remote part of Nepal similar to where Nahakul works.  I have been working here for six months. Now I have the chance to participate in advanced Skills birth attendant training. After this training I will be back at Mugu district hospital.
I had a heart warming incident one month ago.  I was the only medical officer working at Mugu district hospital.  That day I had regular routines like the morning indoor patient round and discharge of patients,  I had  to see an Out Patient and had an emergency call too. In the evening I had call from the emergency department – a 35 year old female was brought to our hospital after fifteen days of  on and off per vaginal (PV) bleeding and had been bleeding excessively for the past two days after an intended medical abortion.  Upon examination the patient was pale and there was continuous PV bleeding with the patient whispering "I am dying". Coordinating with the emergency staff, we all managed her and the bleeding was controlled within an hour of arrival.  After a couple of hours the patient smiled and  thanked all of us for her life.  Cases like these really motivate us to work in remote areas."
December 2017:  "After 10 days of training, I am now working as a medical officer at Mugu District Hospital, in a remote district of Nepal. I feel I am more responsible; I have to see cases and manage them independently. Luckily in this hospital we have one consultant, which is really helpful in the case of doubtful cases. I am enjoying my work although this is a new environment for me"
February 2017: "I am enjoying my internship in the dermatology department where I am seeing many cases of scabies, psoriasis, vitiligo, eczema and tinea. Our teachers are so thoughtful and they know the value of rural practices. They focus on the interns who are planning to work in rural areas like me. They show us common cases and the management of them, which are more common in the rural areas of Nepal, so that it will be helpful for us in the future. I'm pretty sure that this posting, though just a week long, will definitely be of great help to me in identifying common skin diseases in the rural parts of Nepal. This has also given me lots of revision for my 4th year Dermatology posting."
May 2016: "Namaste!! Here I am in Gorkha district for rural rotation, total duration of the rotation was twenty weeks from 7th February to 25th June. Five week rotation in Gorkha district public health office and next fifteen weeks in Gorkha District Hospital.  Now approximately five weeks left for rotation over here and then we will return to Patan Academy . . . Over here we were participate in daily activity of hospital and remaining time for exam preparation. I am doing my best over here . . . Sincerely, Meena
BACK